Holiday Specials
Happy Holidays and Thank You
It's hard to believe it's already that time of year again! We want to thank all our loyal members for another great year. Because of your continued membership, we are able to give back to members some of the lowest rates on our loan programs this year.
For this holiday season, members have 2 ways to save money:
Pick your Payment Holiday Loan
If you could use a little extra cash this holiday season, our Holiday Loan is right for you! Pick the payment you're comfortable with:
$100/month: Borrow up to $1,151.43

$200/month: Borrow up to $2,319.60

OR: Borrow between $750 and $3,000
You'll enjoy a competitive as low as 7.49% APR* rate, much lower than most credit cards, and you'll have a low manageable monthly payment. Apply Online
$3.95 Purchase fee waived on Visa® Gift Cards
Visa® Gift Cards make holiday gift-giving easy! You can buy as many cards as you wish – this year, the purchase fee is waived from November 5 through December 31. Get your gift cards at any MVCU branch location.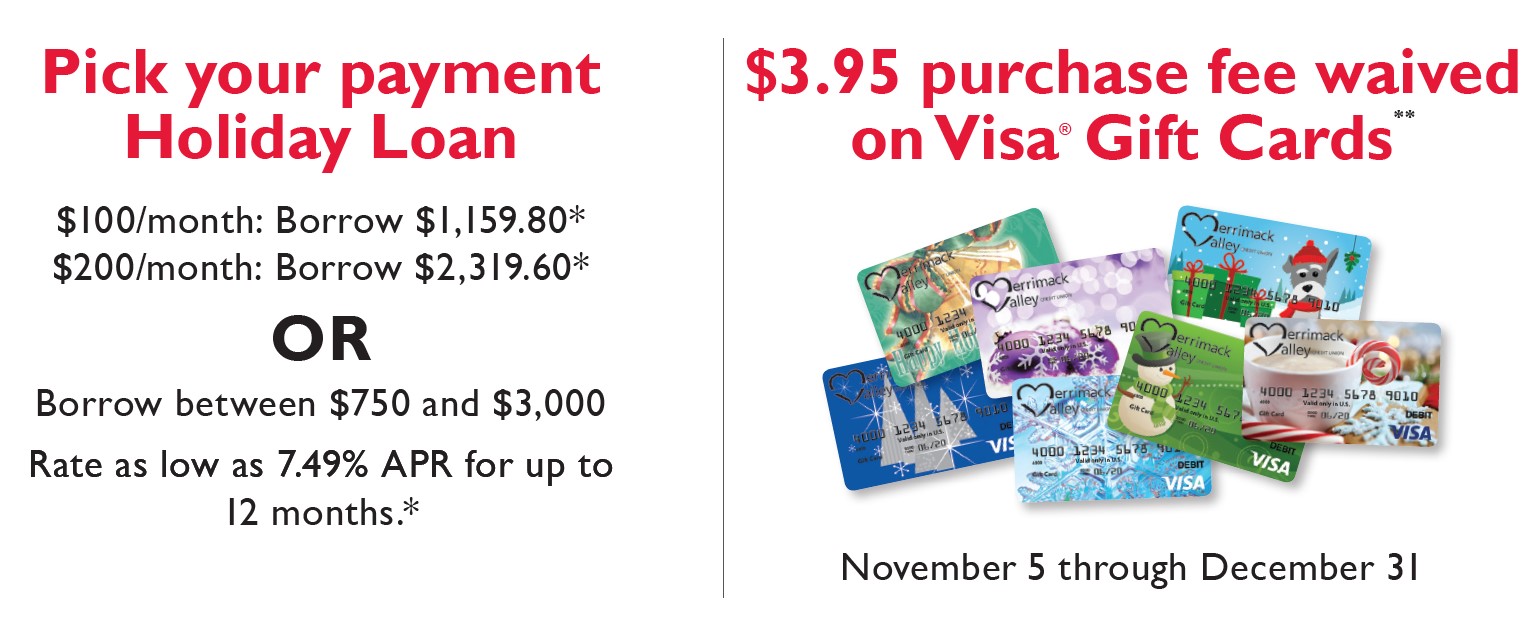 *APR = Annual Percentage Rate. 7.49% APR represents a 0.25% discount for Free Checking or Interest checking members. For 12 monthly payments at 7.49% APR, the repayment amount would be $86.75per $1,000 borrowed. APR and term are determined by the evaluation of applicant's credit history and the actual rate and/or term may vary. Minimum loan amount of $750 up to maximum loan amount of $3,000. Term is 12 months. Limited time offer.
**Purchase fee of $3.95 is waived. Monthly inactivity fee of $2.95 after 12 consecutive months of inactivity. Lost/stolen replacement card fee of $5.00. Gift Cards are issued by
MetaBank®, Member FDIC.