Best Home Improvement Purchases Under $20,000 | MVCU
The Best & Worst Places to Spend $20,000 In Your Home
- Share: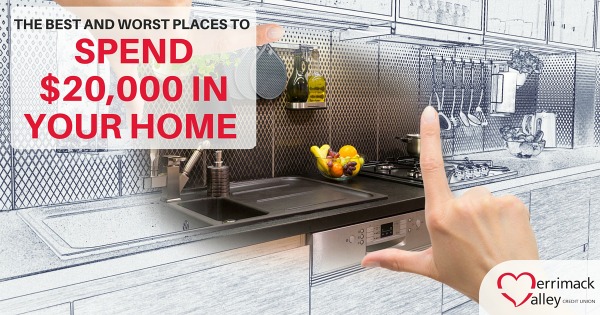 According to US News & World Report, the average American will spend up to four percent of their home's value annually on repairs and maintenance. For a $300,000 home, that equals $10,000 per year on typical needs such as landscaping, roof repairs, painting, replacement of water heaters and appliances, and many other possible items.
Beyond ongoing maintenance, many homeowners will invest in a larger home improvement project every few years. As the budget and home equity continue to grow, so does the demand to reinvest. This is especially true if there are plans to sell the home in the future. If you are considering a larger home improvement project and your goal is to increase your home's value, plan to spend approximately twice the typical maintenance costs.
Here are some of the best and worst ways to spend an average of $20,000:
BEST HOME IMPROVEMENT INVESTMENTS
Kitchen - The kitchen is often the best place to spend your investment. Future home buyers are drawn to homes with well-laid-out kitchens, plenty of cabinet space, high-quality countertops and fixtures, and modern appliances. Be sure to have a solid plan so that you don't go over budget, and pick finishes that have general appeal.
Plumbing - People typically perceive plumbing to be more expensive than it is in reality. Old plumbing summons fears that something could go wrong, and nobody wants to deal with the hassle. Therefore, buyers will often pay a premium for a home with newer plumbing, giving you a great return on your investment. Note that summer is the best time to update plumbing since your pipes will be exposed (so you won't run the risk of your pipes freezing in the cold weather).
Flooring - Wood floors are a must-have for many people, and will often deliver a strong return on your investment. If you already have hardwood floors, invest in having them sanded and refinished to their original glory. If you're buying new flooring, be sure to invest in quality since home buyers are savvy shoppers these days. Steer clear of laminate or poorly engineered wood products.
WORST HOME IMPROVEMENT INVESTMENTS
Bathrooms - While many assert that homes sell because of kitchens and bathrooms, the data indicates that major bathroom renovations or installations actually yield sellers a much smaller return on investment compared to other home improvements. Instead, invest sweat equity into getting the bathroom as clean as possible, replace old fixtures, and focus on spa-like décor.
Swimming Pool - While installing a pool will make your family's summers more enjoyable, this watery delight could actually have a negative impact on your home's value. Potentially buyers often see the cost of maintenance and possible liability, including the potential increase in their home insurance rates, as reasons to avoid buying a home with a pool. This is especially true in New England where there is limited seasonal benefit for the hassle.
Deck or Sun Room – Although these areas may add to curb appeal during the warmer months, you simply won't get your money back. In fact, you may not even recoup half your investment according to statistics.
Considering investing in a home improvement project? Merrimack Valley Credit Union offers a range of home equity options for homeowners.
« Return to "Blog"