Lawrence Riverwalk Branch
Come visit our team in Lawrence!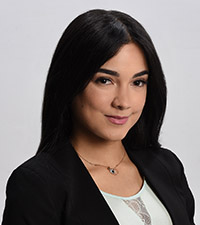 Meet Branch Manager Stephanie Castellanos and the team at the Lawrence Riverwalk Branch!
A financial tip:
"Help maintain and improve your credit score by establishing a satisfactory payment history. Make paying your bills on time easier by using free tools such as automatic bill payment."
Address:
500A Merrimack Street
Lawrence, MA 01843
Phone: 800.356.0067
Fax: 978.682.1623
All of the financial services representatives and tellers speak English and Spanish.
Lobby hours:
Monday, Tuesday, Wednesday, and Thursday: 8:30 a.m. - 5:00 p.m.

Friday: 8:30 a.m. - 6:00 p.m.

Saturday: 8:30 a.m. - 1:00 p.m.
Drive-Thru hours:
Monday, Tuesday, Wednesday: 8:00 a.m. - 5:00 p.m.

Thursday and Friday: 8:00 a.m. - 6:00 p.m.

Saturday: 8:00 a.m. - 1:00 p.m.
Services offered:
24/7 ATM

Coin machine

Instant issue debit cards

Account opening

Loan opening & closing

Financial consultations by appointment

Notary & Medallion

Visa Gift Cards
Testimonials from happy members:
"Nellie has always been so helpful every time I come to the branch. I appreciate her level of professionalism, her positive attitude, and mostly how prompt she is to serve."
"My family and I have been long time members of the credit union, and I had my daughter come in and open an account. During my daughter's last visit, she was surprised that the tellers knew who she was, knew who I was, and made her feel like family. She told me how good that felt. I drive 35 minutes to visit this branch for the level of service that I receive from the tellers and because they make me feel like family."