North Andover Mall Branch
Come visit our team in North Andover!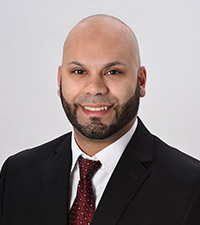 Meet Branch Manager Yariel Alvarez and his team at the North Andover Mall Branch!
A financial tip from Yariel:
"Put your savings on autopilot! Divert a portion of each paycheck into a savings account. Since our savings accounts accrue interest, you'll earn some interest while saving money for a rainy day."
Address:
350 Winthrop Ave., Route 114
North Andover, MA 01845
Phone: 800.356.0067
Fax: 978.685.2584
For assistance in Spanish, please see Edgar (Teller).
Lobby hours:
Monday, Tuesday, Wednesday, and Thursday: 8:30 a.m. - 5:00 p.m.

Friday: 8:30 a.m. - 6:00 p.m.

Saturday: 8:30 a.m. - 1:00 p.m.
Drive-Thru hours:
Monday, Tuesday, Wednesday: 8:00 a.m. - 5:00 p.m.

Thursday and Friday: 8:00 a.m. - 6:00 p.m.

Saturday: 8:00 a.m. - 1:00 p.m.
Services offered:
24/7 ATM

Coin machine

Instant issue debit cards

Account opening

Loan opening & closing

Financial consultations by appointment

Notary & Medallion

Visa Gift Cards
Testimonials from happy members:
"I wanted to let you know that I had a very positive and pleasant experience dealing with one of your loan officers. I was very nervous as I hadn't done this type of thing in many years. She not only walked me calmly through the loan process, but she also informed me of what I needed to do regarding insurance, registry, etc. She not only comes across as a knowledgeable professional, but she also has the special heart-felt comfort and support that is so important in this process."
"Every time I come into the branch for a transaction, it's an adventure. I get excellent member service, friendly tellers, and outstanding knowledge."